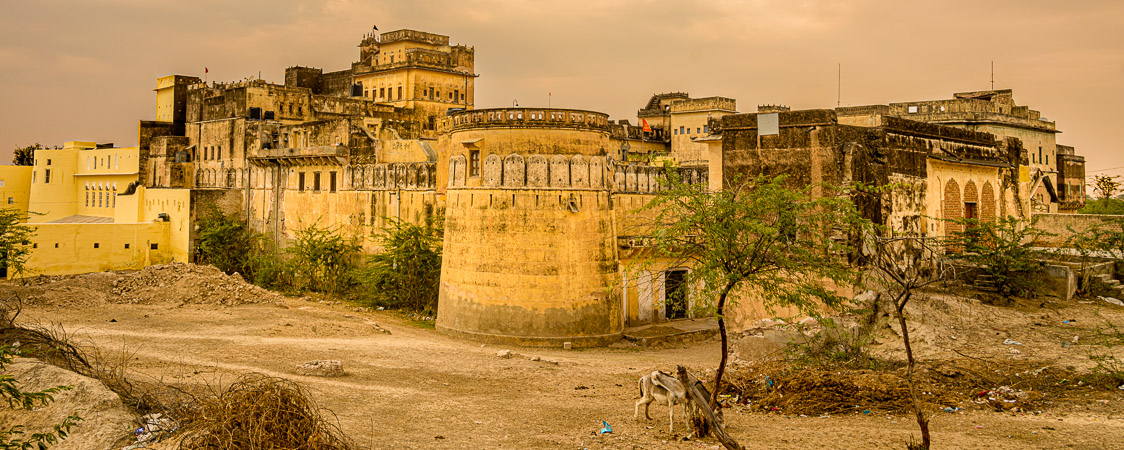 Mehansar is a small village in Shekawati. During my visit to this region I based myself there, in Jhunjhunu and in Nawalgarh, visiting other towns as daytrips or on the way.
Mandawa
The most visited city in Shekawati, with plenty of options to stay in a Haveli. Because of this you are also more likely to be approached on the street by beggars and would be guides. Check out the nicely restored Mandawa Haveli close to the city gate that is converted to a hotel. Most other attractions are a in the side streets of the road leading through the gate from Mandawa Haveli. The Set Dyaram Dedraj Goenka Haveli with men attempting to fly with five wings on their arms, cars, British soldiers, a telephone, a bicycle and the flyer of the Wright brothers. Another remarkable building is the Murmuria Haveli, the Venetian house, with bridges and canals from that city on her walls.
Dunlod
Fort Dunlod is the place to stay and one of the main attractions. The lobby, with paintings of the historic residents, photos and antique furniture is one of those places to really soak up the atmosphere of the past. Another attraction is the Seth Arjan Das Goenka Haveli Museum. A courtyard with many well-preserved paintings surrounded by several floors. The roof can be accessed from a turret where you have a beautiful view over the town and the adjacent classically shaped Hindu temple.
Fathepur
Several havelis in this town are owned by foreigners, they are redecorated nicely.
Ramgarh
A nice compact place with all the ingredients of the region. The most interesting being the Shani temple, a small shrine, nicely lined with mirrors. And check out the the tombs of the Poddar family.
Mehansar
This little place is dominated by an elevated fort, containing a number of palaces. The inhabitants of the fort are the descendants of the Thakur who once ruled the region. It is also the only place to stay in Mehansar. Also in Mehansar is the Saraf Haveli with the 'Golden Room', one of the most beautiful and best preserved fresco-ed rooms. Western influences are lacking in this Haveli.
Churu
Churu is on the edge of the region and by a railway line connected to Delhi and Bikaner. That makes this place a good start or end of a trip through the region.


More & Info

Nawalgarh in Shekawati, Jhunjhunu in Shekawati
Mehansar Castle. Where you really should stay.



Shekawati: onbekend landelijk india. Reportage op verkeersbureaus.info