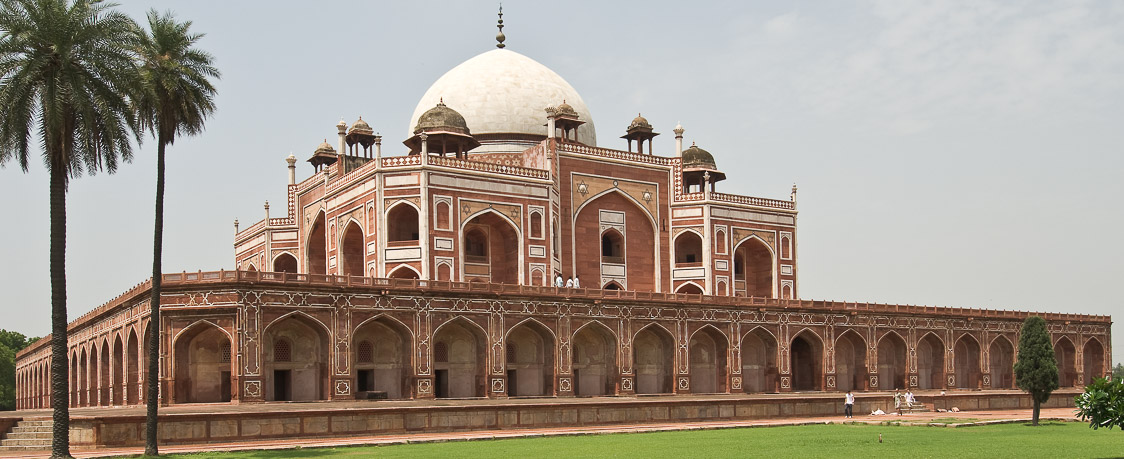 If you go to India more often you'll probably pass through Delhi. I have done so on various trips and always discovered something new, sometimes big, sometimes small.
The Mughal heritage
One of Delhi's main attractions is the Red Fort, filled with palaces built by the Mughal emperors. Check the ornamented ceilings and elegant pillars, and inlaid marble panels at the Diwan-I-Am (Hall of public audiences) and the Diwan-I-Khas (Hall of private audiences). Another highlight is Humayuns tomb, the resting place of the Mughal emperor Humayun. It is a beautiful symmetrical building in a garden, a style strongly influenced by the Persian culture. This type of architecture would culminate in the Taj Mahal, build by Humayuns great-grandson Shah Jajan. Next to it is Isa Khan's tomb a predecessor in time and style.
The Qutb Minar, a 72 meter high tower was build in 1206 to celebrate the victory of the Mughals over the Hindus. It is surrounded by several historically significant monuments, historically connected with the tower and all part of a large complex. These include the Quwwat-ul-Islam Mosque, a number of other tombs and Madrasa's. the Tomb of Iltutmish, Alai Minar, Ala-ud-din's Madrasa and Tomb, and the Tomb of Imam Zamin. Other minor monuments include Major Smith's Cupola (also Smiths folly, that he originally put on top of the Qtub Minar) and Sanderson's Sundial.
The British heritage
In the Qtub minar complex stand a small Cupola designed by Major Smith, a British builder. It was designed to be can be on top of the Qutb Minar, but the breach in style was so big that it was taken off and put aside on the lawn. Major Smith also designed the Kashmiri ghate the entrance to the red fort.
Another piece of British heritage is Connaught place. A large circle of colonnaded whitewashed buildings, now mostly shops and restaurants.
The streets of Old Delhi
As much as there are monuments in Deli there is also an abundant street life. Especially Old Delhi in the vicinity of the great mosque, Jama Mashid, another must see monument, is worth spending time. Besides all the street stalls and fascinating small business you can encounter processions and celebrations. You should spend at least half a day just wandering the streets.


More & Info