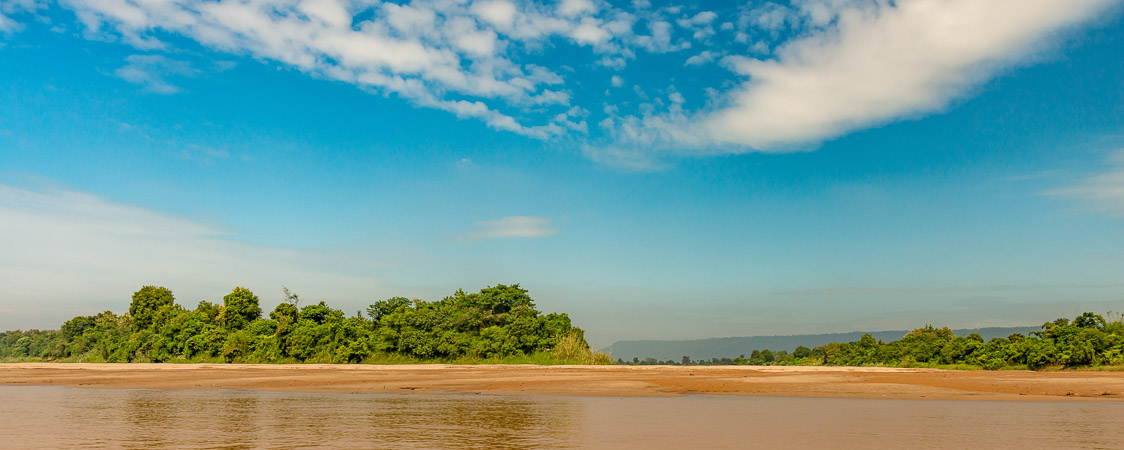 The Mekong makes up most of the border between Thailand and Laos. It leaves Thailand somewhat south of the Golden Triangle, flows past Luang Prabang in Laos and returns to Thailand near Chiang Khan. The cities south of Nong Khai have a multicultural touch due to the trade with Laos. In the north the cities are strictly Thai and more touristy.
Sangkhom
Sangkhom is a pleasant small town in the vicinity of a few islands in the Mekong. You can visit a Lao village with a small boat.
Chiang Khan
A touristy city (mostly Thai) with it's traditional wooden houses, Buddhist Monks collecting their daily food alms at sunrise and a nice night market. Nearby you can see the Mekong coming from Laos. There are also some nice temples and a hill to clinmb.
Chiang Saen
Chiang Saen is a trade port with a lot of Mekong vessels moored. Nothing much else apart from a nice ruin. From there you can get a boat to the Golden Triangle.
The Golden Triangle
Once all about smuggling, now all about tourism. A lot of restaurants, colorfull temples and some viewpoints, Check out the museums about its past and climb the hill near the border with Myanmar