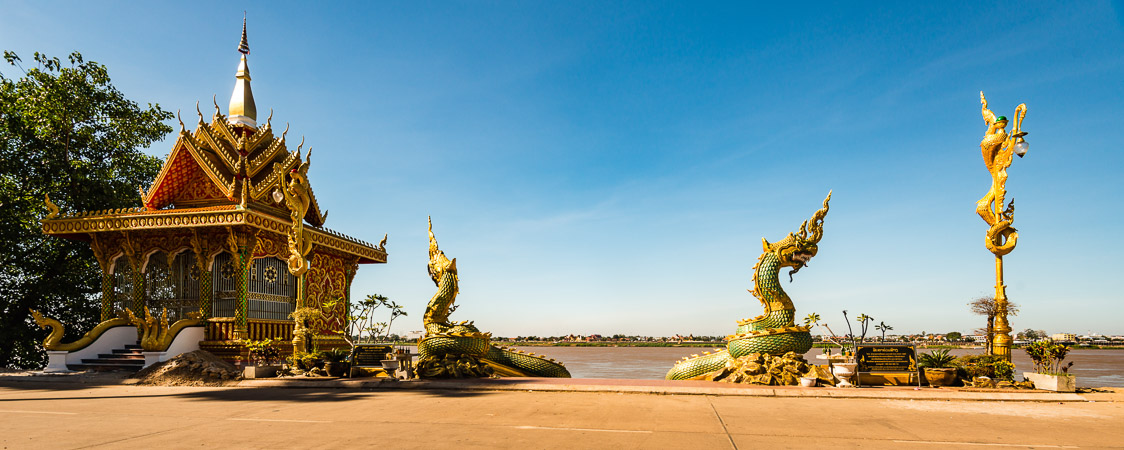 Thakek
The first town from Vientiane if you are heading south. Most people do the famous motorcycle loop. If you don't still hire a bike and explore the surrounding waterfalls, caves, fields and coffee farms.
Savannakhet
Savannahket is a nice stop on the way to Pakse and Sipandon. The city still has a French colonial district, along the Mekong, although it is starting to deteriorate considerably. Traditionally, the city had a mixed population. Yes you can also admire in a small area, a Catholic church, a Buddhist temple, a mosque, a Vietnamese temple and a Chinese temple. The tourist office and some cafes sell nice excursions with not too routine local guides, so you really feel like you are connecting with the locals.
Pakse
A nice town with a lot of good restaurants and places to stay. Check out the palace hotel and hire a bike to explore the surroundings. For adventure travel to Ban Khinak for a visit to Don Som. Or continue to Champassak and What Phou.
Champassak - What Phou
The Word Heritage site What Phou is the main reason for visiting Champassak. This Khmer temple is located against the mountain Phou Khao. From the beginning of the 10th century, Wat Phou belonged to the Khmer Kingdom with Angkor as its center, which encompassed almost all of Thailand, Laos and Cambodia. In addition to being an archaeological site, it is also a living temple, complete with pilgrims and a large festival with thousands of visitors that takes place every February. Wat Phou, like most Khmer temples, has an eastern orientation, in this case from the mountain to the Mekong. From the entrance you first pass a large water reservoir, after which two buildings follow, which are called the north and south palace, as it is not really known at all what they served. A path and short steps lead to two terraces, where you can find a statue of a Dvarpala watchman who is revered as Jayavarman II, the founder of Wat Phou. The statue is dressed and the base covered with offerings such as flowers and incense. A longer path and another terrace lead to a long staircase that ends on a terrace on which stands the main building, the sanctuary, flanked by the library, although it is also not known what this building was for. The shrine contains a number of Buddha images of various sizes.