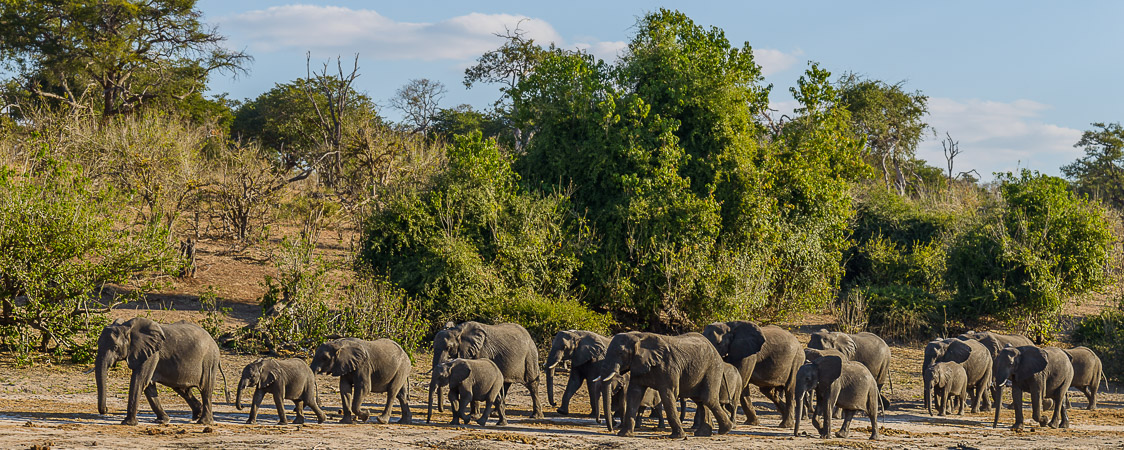 Botswana is one of Africa's great game destinations. Wildlife protection has a high priority in Botswana as has land conservation. National parks and reserves make up 25 percent of the land. The downside is that the country has a policy of low volume high cost tourism, which makes visiting expensive. I visited Botswana as part of an overland tour from Cape Town to Victoria falls in Zimbabwe and the visits were limited to relatively short hops.
Okavango Delta
One of the seven natural wonders of Africa the Okavango Delta is an inland delta where the Okavango River flows into the Kalahari desert. The water does not flow into a sea or ocean, but just evaporates or is transpired by the plants. Especially during the dry wintertime (between June and August), when the delta swells to three times its permanent size, animals from a large are are attracted, creating one of Africa's biggest concentration of wildlife. You'll find hippo's and a lot of birds, among other things. A trip in a traditional looking but plastic (save the trees) Mokoro through the swamps is recommended. As is staying in a houseboat. Breaking a leg, as I did, is ill advisable, so take care jumping boats.
Chobe NP
Chobe National park is also known as 'The land of the Giants'. This park is home to Africa's largest population of elephants. The park is centered on the Chobe river and has, apart from the elephants, an abundance of birdlife and wildlife. The best parts are the boat trips in the end of the afternoon when the elephants drink and bathe. They even swim across the river.
Victoria falls
The huge falls are definitely impressive. And Victoria falls has turned into something of an adventure center. Rafting, bungee jumping and more. However a flight over the falls is definitely a highlight.


More & Info

Namibia, South Africa



Startpagina Botswana
Reportage helikoptervlucht